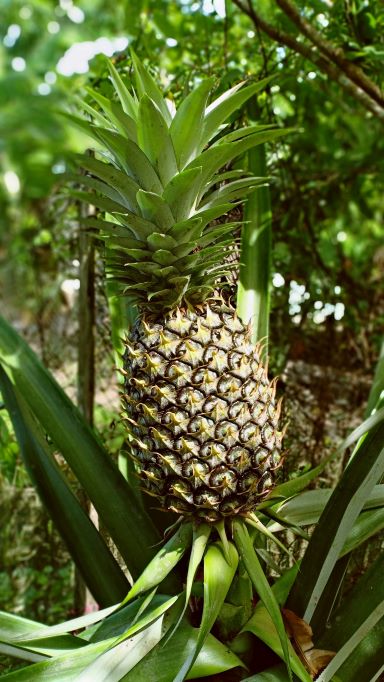 If you haven't guessed by now, there are few tropical fruits I am not  head over heels in love with. That description doesn't even come close to the passion I have for pineapples. On a scale of 1-10, I give pineapple a solid 15! Granted, a bad pineapple can wreck havoc in your mouth but a good one… is sheer bliss! Avoid the stuff in the tin and get a fresh, fully ripe pineapple. Peel it and revel in the sweet, succulent flesh. Honestly, I can eat an entire one by myself. When I discovered what a nutritional powerhouse pineapples are, I felt a lot better about my excessive consumption. 
Pineapples are good for digestion, the bromelain in the fruit is a digestive enzyme that breaks down high protein foods and makes them more easily digestible ( some pineapple in a beef stew is divine). The fibre in the fruit is abundant and can help with irregularity and digestive difficulties.
That's not all there is to the pineapple! This fruit is great for persons that suffer with anaemia. It contains a fair amount of iron but it also has the Vitamin C needed for the body to effectively absorb the iron. It is high in potassium and contains a variety of trace minerals. Calcium, magnesium, zinc and phosphorous are found in small amounts in this fruit. The B vitamins: B1, 2, 3, 6 and 9 feature in pineapple as well. They offer a host of benefits; improved metabolism, healthy eyes, hair, skin and nails, keeps the nervous system functioning well and helps to create haemoglobin to improve oxygenation of the body. How could something so delicious be so good for you?
Pineapples are also reputed to be good for ridding the body of excess water, helps fight against coughing and colds, strengthen bones, helps reduce blood pressure and improve oral health. Regular consumption has been linked to weight loss and improved energy. This fruit has it all! Just the combination of my beloved pineapple with coconut milk, lightly sweetened and half frozen is a taste sensation that is greater than the sum of its parts. I recommend always go with fresh unless you have a real pineapple emergency, there is just something about the tin that changes the flavour. Throw pineapple juice in meat marinades as a tenderiser. It adds just a hint of sweetness. Put it in salads to add a bright acidity with floral character. Make Pina colada slushies as a tropical  cool down remedy. Eat as is or season with garlic, pepper and salt for a luscious, spicy alternative. Do whatever you can to increase your intake of this super delicious, super nutritious fruit today. Your body will thank you for it! This fruit is high in Alpha Hydroxy Acids and the bromelain in it, makes the pineapple a beauty superstar too! Forget manual exfoliation! Give yourself a whole body chemical peel with this fruit. You remember me mentioning the pain of eating a bad pineapple? Well this is where they shine! 
Photo by Matthias Cooper on Unsplash
Pineapple body peel
1 whole pineapple, ( peeled and chopped)
Puree the pineapple and spread it all over your freshly cleansed skin and wait until you begin to feel it tingle. Apply at the places that need the most help first, think; elbows, knees and feet. Then go over the rest of the body. If putting it on your face, do that last and avoid the eye and lip area. Once it tingles, that's 5 -10 minutes (don't wait for it to burn, just tingle), gently rinse off and moisturise. Your skin will be so smooth, you'll be slippery. 
I'm passionate about pineapples, experience this nutrition and beauty superstar and you'll become passionate too!