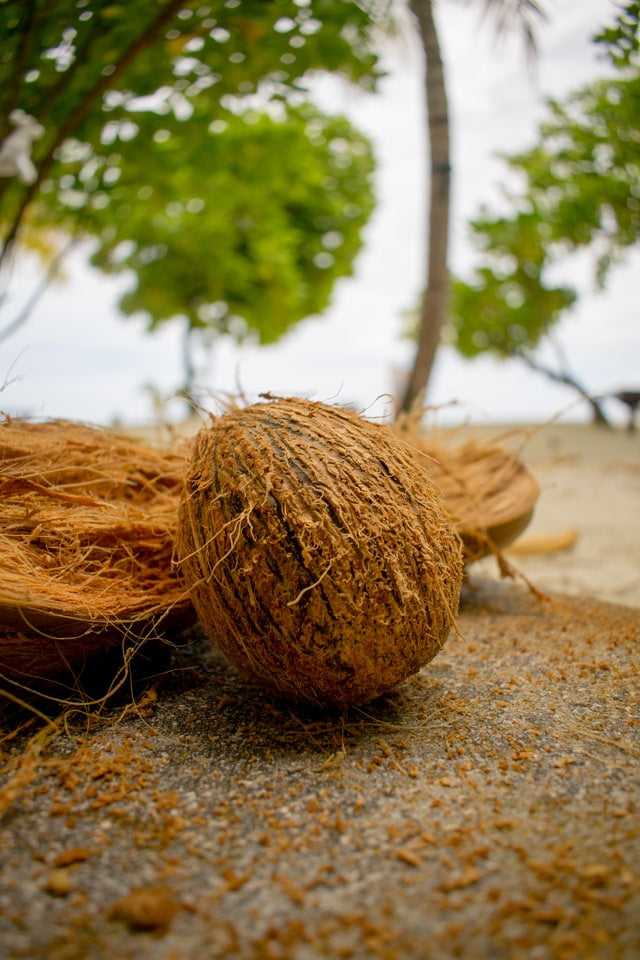 Coconuts, oh Coconuts how do I love thee? Let me count the ways…in sweetbread, coconut bake, dumplings, sugarcakes, fudge, ice cream, pone, coconut shrimp curry, oil down, in callaloo, um what was I talking about again? Oh, yes, coconuts! The coconut is the pearl of Caribbean fruits. Cool coconut water on a hot day can't be beat! Dried coconuts work their own amazing magic as well! A splash of coconut cream adds sweetness and richness to your curries and stews. Coconut milk in your beans and rice dishes gives them unctuous richness and loads of flavour!.
Coconuts are an amazing, zero waste fruit, the green nut is full of delicious and nutritious water and the spongy outer layer makes amazing mulch for the garden. The dry nut is no joke either! Blended flesh is the source of milk and cream. The remains are delicious when toasted and added to desserts or dried and ground into flour for gluten free baked goods. The hard outer shell can be made into charcoal and the dried husk is ground into coco peat that is indispensable to gardeners.
The best part is coconuts are great for your skin and hair as well.
Coconut water is high in potassium (even more than bananas), low in sodium and sugar. Ditch the sugary and soft drinks and replace it with coconut water, it's the healthier option! Coconut milk is no nutritional slouch either, high in iron, magnesium and trace minerals like copper, manganese, and selenium. It is a little high in fat but is a healthy fat. The medium chain triglycerides in coconut oil have been linked to weight loss and are less likely to be stored as fat by the body. Let's not even talk about just how divine coconut oil is for hair and skin.
Try a pre-shampoo treatment with coconut oil for strong healthy hair, seal in moisture after your wash routine, use as a hot oil treatment for deep conditioning and moisturise and refine skin too. I would strongly recommend using cold pressed coconut oil. Cold pressed coconut oil retains more of the nutrients than the oil extracted using heat. It can be pricey but you can make it yourself ( I suggest one of my favourite You Tubers; Nanaaba who has the easiest tutorial I have seen online ).
Indulge in coconuts today, green or dry it's a tropical jewel!